Choose from the top nationwide 4G LTE networks
Make a Choice to End Childhood Hunger
Make a big difference in a small way.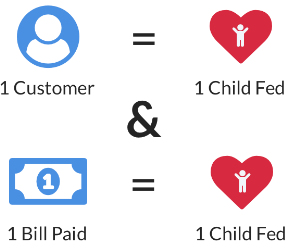 With ACN's Project Feeding Kids program, when you sign up for Flash Wireless, one meal** will be donated to a child in need. Plus, every time you pay your monthly bill, another meal** will be provided.
Every bill. Every month. Every time.
Bring Your Friends Over to Flash Wireless!
Refer 5 customers and get your service free.***

*Monthly price excludes taxes, surcharges, and fees. Unlimited plans allow for high-speed data access only up to 22GB per line, per billing cycle. After the 22GB limit is reached, Flash Wireless may slow you down to as low as 128 Kbps for the remainder of your billing cycle. Visit flashwireless.com for complete details. **ACN will donate one meal ($0.10) each time a customer signs up for the following services: ACN Home Phone Service, ACN High-Speed Internet, Flash Wireless, XOOM Energy, Vivint Smart Home, DISH, DIRECTV, ACN DigitalTalk® Express, and Anovia Payments, and one meal each time a customer pays their bill for the following services each month: Flash Wireless, ACN Home Phone/Digital Talk Express throughout North America between 3/15/2018-3/15/2019. ACN guarantees a minimum donation of 1.5 million meals to Feeding America to help families and children in need. ***Excludes taxes and surcharges. Refer to the terms and conditions for complete details.